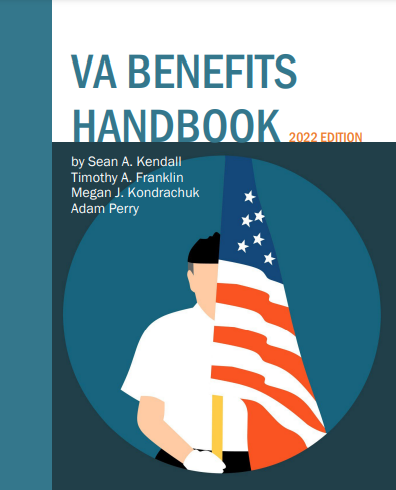 Our Latest Handbook: Updated for U.S. Veterans Around the World
Across the country, our military Veterans must resume their civilian lives after they leave the service, and face all of the challenges that may go along with this transition. Adjusting to new employment, relocation, and easing back into a civilian identity can be difficult after any period of military service. But when physical, mental, or emotional trauma due to military service becomes a factor, that transition may become even harder.
File for Benefits and Don't Settle for Rejection
Through the 2022 Edition of our book, VA Benefits Handbook, our Veterans Affairs benefits attorneys share over 30 years of experience working in veterans' law, compiling key informational tips to help you understand the complicated—and sometimes overwhelming—process of collecting VA benefits for your service-related injuries.
You can learn answers to common questions like:
What exactly does "unemployability" or "TDIU" mean? Do I qualify?
Can the VA make claims supporting "sedentary work" options, and what choices do I have about those claims?
What evidence can you use to support your disability benefits claim?
What are some of the most typical disability claims—and will I need legal assistance with them?
Our VA Benefits Handbook also provides you with basic tips to understand the process of filing your claim, and how a decision to award or deny benefits is made. Read about some important questions to ask when looking for a lawyer to help you with your disability claim, what common mistakes should be avoided when filing a benefits claim, what to do if your claim is denied, and how to keep track of your appeals.
The Law Office of Sean Kendall represents clients from all over the country, handling VA disability claims cases in Colorado, California, Florida, North Carolina, Illinois, and all other states. Some of our clients even live overseas. At our office, any Veteran from any military branch can seek legal help for a VA disability benefits claim.
This helpful guide can be yours by calling our VA benefits attorneys toll-free at 1-877-629-1712 or by filling out the form on this page. This book can be a beneficial starting point for receiving the VA disability benefits you deserve.